---
Find Casa Gwen …

On the Original Caminho Portugues da Costa
Caminha – Vila Nova de Cerveira
along the Caminho signs through the hills
to Casa Gwendoline
BOM CAMINHO!

We are easy to find
DIRECTLY on the Caminho from Caminha to Vila Nova de Cerveira,
if you follow the signs & arrows over the hills.
We are about 1,3km before Vila Nova de Cerveira.
After the chapel Sra. do Porto in Segerem, Loivo only about 200m on the Caminho, the orange house on your right.
If you come along the river on the Ecopista (foot / bike path), there is a direct shortcut (approx. 950m, partly up hill) (info see below)
---
The ECOVIA / ECOPISTA
Bike & footpath along the Rio Minho
Caminha – Vila Nova de Cerveira – Valença/Tui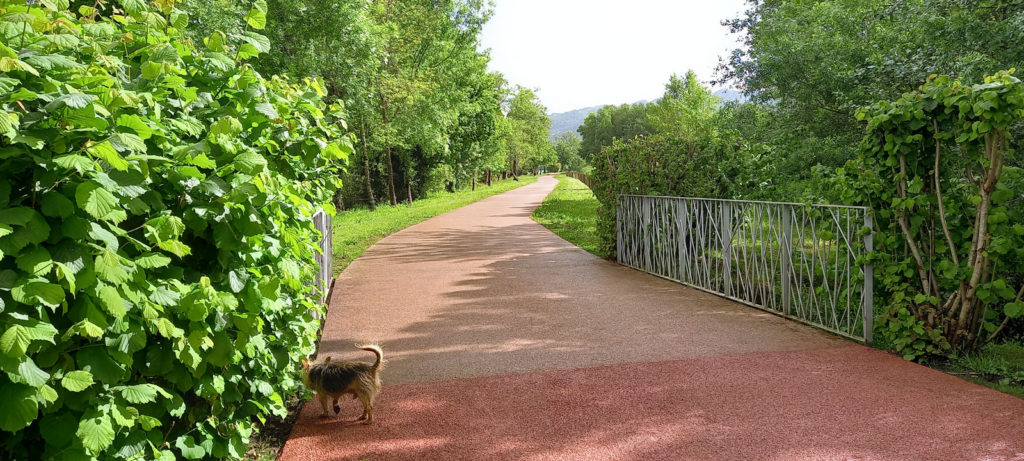 You leave Caminha over the big bridge.
Follow the yellow arrows for about 1,5km.
At the traffic light (N13 / rail line junction), look across the road left for signs to the RIO MINHO and the ECO VIA.
The walking path starts here and continues for about 3km.
IGNORE the yellow arrows if you want to stay next to the river!
When you have to get back on the national road directly before Lanhelas, continue along the N13 for only 500m.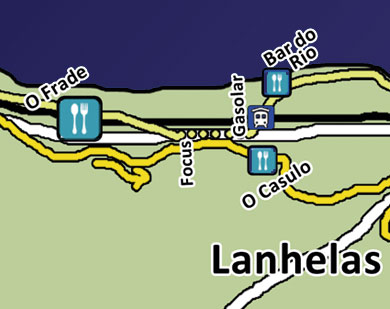 After the GASOLAR petrol station follow the next sign to the ECOVIA and RIO MINHO.
From here you can stay directly along the river all the way to Vila Nova de Cerveira and even Valença.
Directly beforeValença, the traditional Caminho Santiago with its yellow arrows joins the Ecovia.
If you feel like taking a rest stop half way in Vila Nova de Cerveira, we recommend ourselves 😉 of course.
Make sure to check for availability before heading up the hill the last few meters.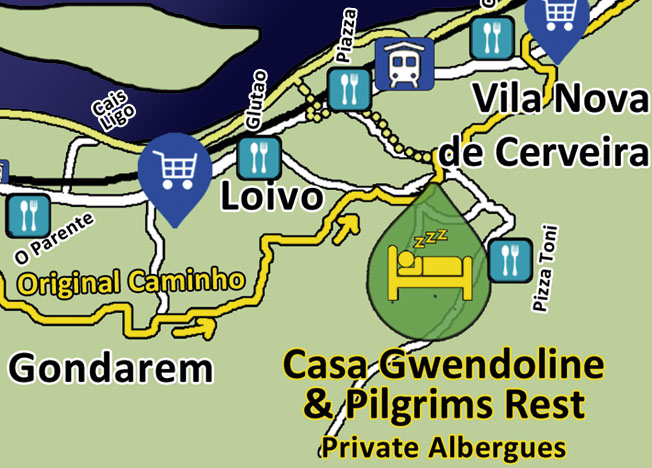 ---
Find Casa Gwen …

Coming from the ECOVIA / ECOPISTA
SHORTCUT to Casa Gwendoline – 950m
Pay attention at the parking area next to the Ecovia "CAIS LIGO"
(where you can rest on a bench in front of a poster of a duck park).
Following the Ecovia, from here on you find 3 little bridges with metal railing. Before the 3rd metal railing, turn right into the fields.
You see the animal shelter to your right.
Cross the train tracks and at the big road N13 turn left.
When you come to the pizza restaurant "Piazza" (open Tue-Sun 11-15h and 19-22h), turn right and follow the little road upwards.
Here you will already find our signs. If not, once you come to "Quinta Santiago" and "Pilgrims Rest" you are almost there:
FOLLOW THE BLUE ARROWS up another 150m, turning right twice.
And follow our big green fence on your left to our gate.
Welcome!